Knee & Lower Leg
Conditions
Procedures
ACL Reconstruction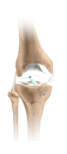 The anterior cruciate ligament is one of the major stabilizing ligaments in the knee. It is a strong rope like structure located in the centre of the knee running from the femur to the tibia.

Knee Dislocation

Advanced Cartilage Restoration

Articular or hyaline cartilage is the tissue lining the surface of the two bones in the knee joint. Cartilage helps the bones move smoothly against each other and can withstand the weight of the body during activities such as running and jumping. Articular cartilage does not have a direct blood supply to it so has less capacity to repair itself. Once the cartilage is torn it will not heal easily and can lead to degeneration of the articular surface, leading to development of osteoarthritis.

Joint Preservation and Reconstruction
Coming soon
Knee Arthroscopy

The arthroscope is a fiber-optic telescope that can be inserted into a joint (commonly the knee, shoulder and ankle) to evaluate and treat a number of conditions. A camera is attached to the arthroscope and the picture is visualized on a TV monitor. Most arthroscopic surgery is performed as day surgery and is usually done under general anesthesia. Knee arthroscopy is common, and millions of procedures are performed each year around the world.

Meniscal Repairs

Meniscus is the C-shaped two pieces of cartilage located between thighbone and shin bone that act as shock absorbers and cushion the joints. Meniscus distributes the body weight uniformly across the joint and avoids the pressure on any one part of the joint and development of arthritis. Being the weight bearing part, meniscus is prone to wear and tear and meniscal tear is one of the common knee injuries. Meniscal tear may be developed by people of all ages and is more common in individuals who play contact sports.

Multi-ligament Knee Reconstruction

Ligaments are fibrous tissue bands that connect bones and stabilize joints. The knee joint has four major ligaments – the anterior cruciate ligament, posterior cruciate ligament, lateral collateral ligament, and medial collateral ligament.
High Tibial Osteotomy

High tibial osteotomy is commonly used for patients with osteoarthritis that is isolated to a single compartment (unicompartmental osteoarthritis). It is also performed for treating a variety of knee conditions such as gonarthrosis with varus or valgus malalignment, osteochondritis dissecans, osteonecrosis, posterolateral instability, and chondral resurfacing.

Exertional Compartment Syndrome Surgery

Exertional compartment syndrome, also called chronic compartment syndrome, is a condition that causes pain or cramps in the legs during exercise. This pain usually lessens on stopping the activity. It most often occurs in the front compartment of the lower leg. Athletes participating in sports such as running, biking, or swimming which require repetitive movements are at a greater risk of developing this condition.