In the News
Providing Expert Care to Champion Athletes and the Community
After playing in school sports themselves, it was destiny for Dr. Robert A. Arciero and Dr. Katherine Coyner to treat Husky athletes as part of the sports medicine program within UConn Health's Department of Orthopedic Surgery. UConn Health has established itself as a leader in exceptional health care, where the expert care provided to champion athletes extends to the general population. With the backdrop of their association with UConn basketball national champions, UConn Health is making waves in delivering topnotch care that inspires confidence in the community.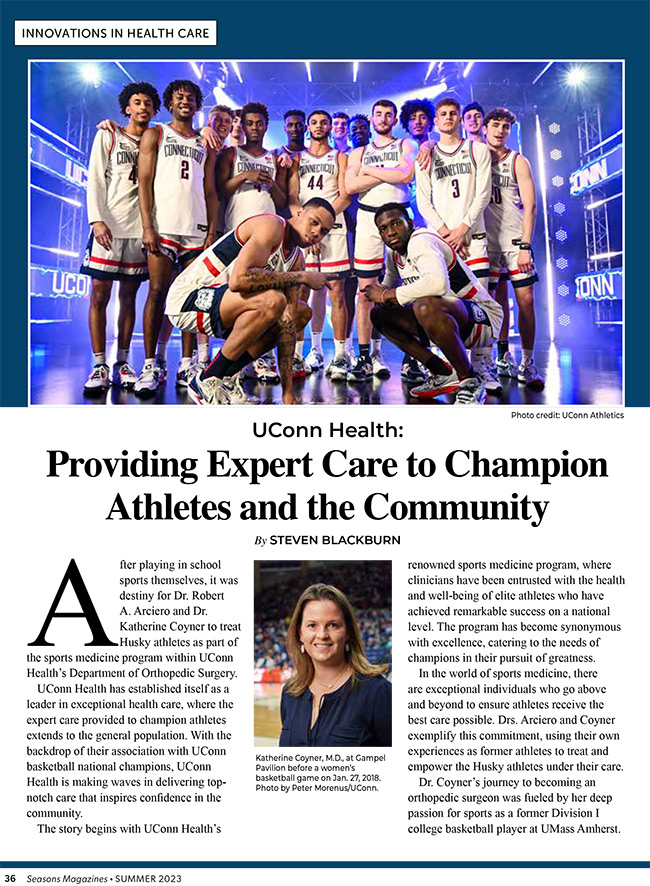 Click here for more information
Coach Geno Auriemma shared some high praise for the UConn Health doctors, calling them unsung heroes
Despite a season fraught with adversity, we are so proud of UConn Women's Basketball and their amazing work this year. Speaking ahead of the sweet 16 game against Ohio State, Coach Geno Auriemma shared some high praise for the UConn Health doctors, calling them "unsung heroes."
Coyner recognized as Atlantic 10 Title IX Trailblazer
Congratulations on Match Day 2023
In my time here, Dr. Katherine Coyner has been an incredible mentor to me. She's made it her mission to inspire girls and women of all ages to fearlessly pursue traditionally male-dominated fields, and I can honestly say there's a good chance I wouldn't be where I am today without her guidance and support.
Click here for more information
ACL injuries are more common for female athletes such as UConn's Paige Bueckers. Experts explain why
"With slightly wider pelvises this has caused sort of a more of a shift of the body weight past midline putting additional stress on the ACL," said Dr. Katherine Coyner, a orthopedic surgeon and associate professor of orthopedic surgery at UConn Health.
Click here for more information
UConn Health's Musculoskeletal Institute and Sports Medicine Program
Dr. Katherine Coyner provides advanced treatment and surgical options for patients with a wide range of sports-related injuries and conditions of the shoulder, hip, and knee.
Click here for more information
Orthopaedic Surgeon Dr. Katherine Coyner Named Prestigious ELAM Fellow
Dr. Katherine Coyner, associate professor of orthopedic surgery, has been selected for ELAM's prestigious one-year leadership fellowship for women.
UConn Health's Dr. Katherine Coyner, associate professor of orthopedic surgery, has been selected to participate in a prestigious one-year ELAM women's leadership fellowship. ELAM is The Hedwig van Ameringen Executive Leadership in Academic Medicine® Program for Women.
Click here for more information
UConn Health Physicians Recognized as 'Top Doctors'
Connecticut Magazine's 2022 'Top Doctors' list is out and 38 UConn Health doctors are on the list
In the special issue's feature article, "The Future of Healthcare: What to Expect," several UConn Health doctors share their expertise including Interim CEO and UConn School of Medicine Dean Dr. Bruce Liang, Psychiatry's Dr. Neha Jain, Orthopedic Surgeon Dr. Katherine Coyner, and Cardiologist Dr. John Glenn-Tiu.
Click here for more information
UConn-Trained Future Doctors Meet Their Match
At the stroke of noon on Friday, March 18 nearly 100 soon-to-be doctors training at UConn School of Medicine anxiously clicked open digital envelopes to learn their fate on national medical Match Day 2022.
Zeng credits her biggest inspiration and mentor Dr. Kathy Coyner, who she met on the first day of medical school. Coyner runs several workshops with the goal of exposing and inspiring more females to enter surgical subspecialties.
Click here for more information
Whether returning a star athlete to a high level of performance, or helping seniors get back to daily life, Dr. Coyner is often quoted in the press. As an emerging leader in orthopaedic surgery, Dr. Coyner is at the forefront of evolving techniques. We invite you to review these headlines and learn more about how these advances can benefit your joint health.

This award recognizes a woman working in STEM who is a leader in her field, and who makes a significant effort to support other women and encourage girls' interests in STEM. The honoree is selected by the Connecticut Science Center's Women in Science steering committee.
Click here for more information
Operating, Though Outnumbered, in Orthopedics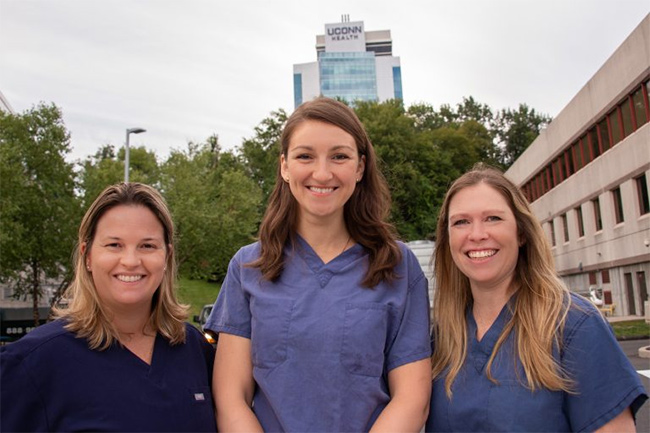 In the male-dominated surgical specialty of orthopedics, UConn Health has three female orthopedic surgeons, from left: Drs. Katherine Coyner, Olga Solovyova, and Lauren Geaney. (Tina Encarnacion/UConn Health photo)
While American medical schools have overcome the historic disparity between male and female physician trainees, there remain a fair amount of specialties where noticeable gender gaps persist.
One of them is orthopedic surgery, where men outnumber women by a rate of about nine to one.
At UConn Health, the ratio is closer to six to one. Dr. Lauren Geaney is a foot and ankle specialist and orthopedic residency program director, Dr. Kathy Coyner is an orthopedic sports medicine specialist and orthopedic team physician for UConn athletics, and Dr. Olga Solovyova recently arrived, specializing in hip and knee replacement. The three of them share their perspectives on being women in the field of orthopedic surgery.
What has your experience been as a woman in a male-dominated specialty?
Coyner: It is a more physically demanding specialty; we're using hammers and saws and drills and lifting big legs and putting in knee replacements and that type of stuff, so there is a physicality of it that isn't seen in other parts of medicine. Now that being said, I've never once felt inferior or a lack of strength that couldn't do something. I was actually very naïve and didn't understand the obstacles, which probably worked to my benefit. I was the first woman through my orthopedic surgery residency in 2005, and I think I faced a lot of things without realizing it, but fortunately I sort of set the standard and it never was an issue for me. I've never seen myself as any different, which has probably helped me.
What drew you to orthopedic surgery?
Coyner: I'm an athlete, I played sports all growing up, I played college basketball, so I was exposed pretty young to orthopedics. That is a stereotype of orthopedics, former athletes who've had their bumps and bruises and have had exposure. So for me it was just, in college I worked with our orthopedic surgeon who dealt with our team, I'd go in and watch my teammates have surgery, so it just made sense to me. I'm sort of an instant-gratification-type person, you're bone's broke, I fix it, you go back to doing what you want, you tear your ACL, you get back to sports. It fit my personality. I like the hands-on aspect of it, from a surgical perspective.
Click here for more information
Dr. Coyner has been named a finalist for the Connecticut Technology Council 2018 Women of Innovation® (WOI) Award in the Academic Innovation and Leadership category for her continued contribution to STEM for her commitment to The Perry Initiative. She was selected by a panel of judges from over 130 nominees.
Click here for more information
On the Road: Commencement Honors for Orthopedic Surgeons
Two UConn Health orthopedic surgeons are being honored May 11 at the commencement ceremonies of prestigious institutions of higher education. The schools are Icahn School of Medicine at Mount Sinai in New York City and the University of Massachusetts at Amherst.
"It's wonderful for the rest of the nation to understand what tremendous surgeons, educators, and researchers we have here at UConn," said Dr. Augustus D. Mazzocca, chair of UConn Health's Department of Orthopaedic Surgery.
Distinguished Achievement Award for Dr. Katherine Coyner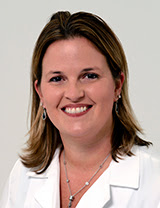 Dr. Katherine Coyner
UConn Health's Dr. Katherine Coyner, assistant professor of orthopedic surgery, will be honored by her alma mater UMass Amherst with its Distinguished Achievement Award.
At UMass's commencement ceremony for its 5,500 undergraduates at McGuirk Alumni Stadium, Coyner will honored for her high accomplishments in her profession and her notable contributions to society.
Coyner, graduated in 2001 from UMass. She was two-time captain of the women's basketball team, and the second player in UMass history to score 1,000 points and total more than 500 assists in a career. A starting point guard, Coyner holds top-10 rankings in 30 different areas of accomplishment in her collegiate basketball career. She earned her medical degree from Northeastern Ohio University College of Medicine. As the first woman in the orthopedic surgery program, she completed her residency at William Beaumont Hospital in Royal Oak, Michigan.
She serves as a UConn Health Orthopedics and Sports Medicine physician, team physician for the University of Connecticut's UConn Huskies, and head team doctor for the WNBA Connecticut Sun.
In addition, Coyner is active outside of the medical field. She hosts workshops for young women in high schools and medical schools to expose them to opportunities in orthopedic surgery and engineering. For many years she has also been involved in the Perry Initiative, an organization committed to inspiring young women to be leaders in the fields of orthopedic surgery and engineering.
"Dr. Coyner is a valuable member of our global sports medicine team," said Mazzocca. "Her efforts in creating programs for young women encouraging them to go into medicine and science is nationally recognized. She is a great mentor and surgeon."
Click here for more information
WNBA Connecticut Sun Teams with UConn Health Doctors
June 29, 2017
The WNBA Connecticut Sun has named a few UConn Health Orthopedics & Sports Medicine doctors as team physicians for its professional women's basketball players.
UConn Health's Dr. Katherine Coyner, an orthopedic surgeon and sports medicine expert, has been named the new Head Team Orthopedic Surgeon. In addition, sports medicine specialist Dr. Matthew Hall will be the team's primary care provider, while concussion expert Dr. Anthony Alessi who directs the UConn Neurosport Program will serve as the team's consulting neurologist.
The team physicians hailing from UConn Health will provide care for the players on- and -off the court including at every WNBA Connecticut Sun home game at Mohegan Sun in Uncasville.
The new WNBA Connecticut Sun team physicians are faculty of UConn Health Orthopedics & Sports Medicine. It offers comprehensive, cutting-edge orthopedic and sports medicine care services for the prevention and treatment of orthopedic injuries and conditions for more than 26,000 patients annually. Its clinical services span prevention, physical therapy, rehabilitation, minimally invasive procedures and orthopedic surgery care.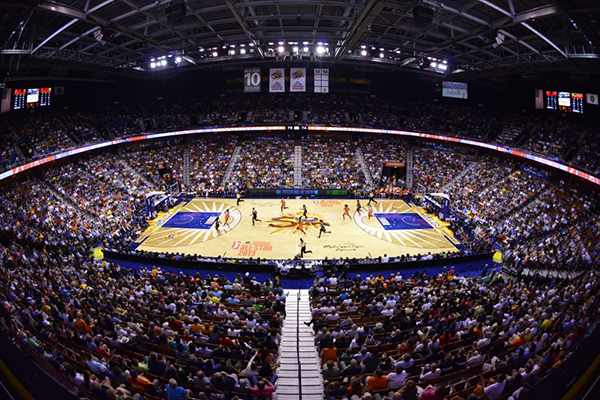 Click here for more information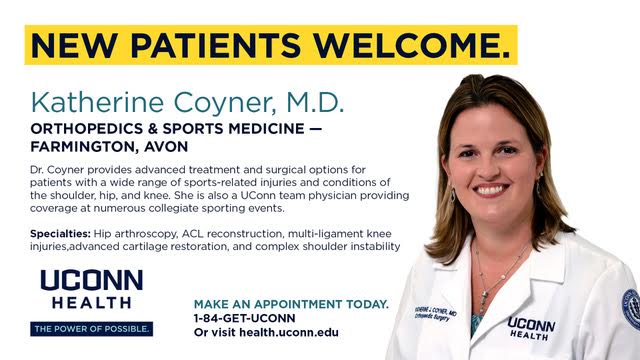 Kathy Coyner Named to Atlantic 10 Legends Class of 2017
January 19, 2017
AMHERST, Mass. – The Atlantic 10 Conference revealed its Atlantic 10 Legends Class of 2017 on Thursday morning with Jim McCoy and Kathy Coyner representing the University of Massachusetts. McCoy is the all-time leading scorer for the UMass men's basketball program, while Coyner was a playmaking guard for the Minutewomen during one of the most successful eras in the women's basketball program's history.
Established in 2013, the Legends program recognizes men's and women's basketball student-athletes and coaches who have made a lasting impact on their respective basketball programs and institutions. This year marks the fifth class the Atlantic 10 has inducted. Each year, A-10 member institutions select their two Legends. Previous honorees have included Basketball Hall of Fame members, national champions, Olympians, and professional players.
"The Atlantic 10 is pleased to honor the achievements and success of these 28 outstanding individuals," stated A-10 Commissioner Bernadette V. McGlade. "Their meaningful impact on their institutions, teams and on college basketball as a whole have made a lasting impression, and they are each very deserving of this prestigious accolade."
Click here for more information
Kids and sports: How specialization can lead to overuse injuries
If it takes 10,000 hours of "deliberate practice" to truly master a skill, as author Malcolm Gladwell contends, it would make sense that the earlier you specialize in an activity, the better you will be. While this may be true, it's not without consequences. Kids who start specializing in one sport early may put their health at risk.
More kids than ever are playing sports these days, leading to more sports injuries in general. But we're also seeing – especially in larger cities such as Dallas – kids at younger ages specializing in one sport, which leads to more overuse injuries that can plague them into adulthood.
Click here for more information
10 must-do moves for women's health
Women are not guys. OK, we've said it. Sure, we can run for president, fight in wars, hold the same jobs as men. But when it comes to our health, we're different.
"No. 1," says Katherine Coyner, an assistant professor in orthopedic surgery at UT Southwestern Medical Center, "understand the genetic difference between men and women. From a hormonal level, there's the difference of men having more testosterone and women having more estrogen."
Click here for more information
The story behind the tent on Alabama's football sideline
When a player gets injured in a football game, they are typically brought to a trainer's table on the sideline where a medical evaluation is done in front of 100,000 people and a television camera capturing every moment of pain and emotion. Short of taking a player back to the locker room, which presents its own logistical challenges, holding up towels is the only way to shield something from view.
Click here for more information
3 ways to shake up your fitness routine
Exercise can be a great stress reliever. But if the thought of doing your regular routine makes you cringe, your workout may actually add to your stress. To combat this, here are three ways you can shake up your fitness routine and start enjoying your workouts again.
Click here for more information
Perry Initiative UT Southwestern 2014
Women and ACL Tears: Why they occur, and how to avoid them
First comes the pop, then comes the pain. For those who play sports, the sound and sight of a torn anterior cruciate ligament (ACL) is a too-common experience. And, as it turns out, much more common in women than men, with an occurrence rate eight times as high.

Click here for more information
News from the Perry Outreach Program at UT Southwestern!
Something amazing happened on Saturday, October 5th, 2013 during the Perry Outreach Program in Dallas, TX. Forty local students from five schools immersed themselves in the challenging fields of Orthopaedic Surgery and Engineering and accomplished things they never thought possible.
Fewer than 7% of all practicing orthopaedic surgeons and doctoral-level engineers are female, but you wouldn't have thought that by the way these students dove right in!
Our students repaired a broken femur using an "ex-fix," learned to suture, and straightened a spine with scolosis. They also plated fractures and reconstructed a knee.
Throughout the day, they interacted with leaders in the orthopaedic surgery and engineering communities, including the UTSW Dept of Orthopaedics, as well as the University of Delaware Dept of Mechanical Engineering and Dept of Biomechanics and Movement Science.
Details of this exciting day are now on our website, as well as Facebook.
Thanks to our faculty, volunteers, and students, the October 2013 Perry Outreach Program at UTSW was a huge success! We're looking forward to running another program in Dallas next year.
In the meanwhile, remember ladies: Keep pushing yourselves, find quality mentors, and do what you love!
Yours,
UT Southwestern named the official health care team of the Dallas Stars
UT Southwestern Medical Center physicians will oversee the health needs of the Dallas Stars as the team's official medical provider, marking the first time a single organization has managed the entire spectrum of medical care for the National Hockey League club.
Click here for more information
Keep Kids in the Game for Life Through the STOP Sports Injuries Campaign
Today, leaders at UT Southwestern Sports medicine are coming together with the American Orthopaedic Society for Sports Medicine, American Academy of Orthopaedic Surgeons, American Academy of Pediatrics, American Medical Society for Sports Medicine, National Athletic Trainers' Association, National Strength and Conditioning Association and Safe Kids USA to promote the STOP Sports Injuries campaign.

Click here for more information
Understanding Osteoarthritis
You probably know someone with osteoarthritis - it affects men and women of all races and backgrounds (though it is more common in women). It usually appears in those 45 years of age and older, but it can affect younger people as well.
How to choose the right doctor
An educated patient is an empowered patient. The more you know about your own medical conditions will not only help earn the respect of your doctor, but it will help you come up with questions to ask a doctor prior to choosing him or her to treat you.
Finding the Right Running Shoe
You need to know your foot type and what type of shoe best supports your arch and running style in order to find the best running shoe for you. Knowing these key points will help you find a shoe that may prevent injury and promote performance.

You will need the Adobe Reader to view and print these documents.